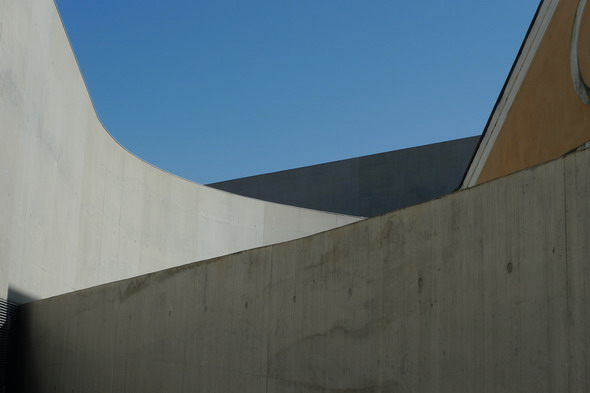 I have had the chance to visit Zaha's latest building in Roma: The Maxxi ( museum of art of the XXI century) which is due to open in feb.2010 There is very good There is less convincing, but it has been an incredible spatial experience.
Beeing an architecture student in the early 90's in Paris, there was different movements to choose from: from corbuesque inspiration « a la Ciriani », to so called  » french touch » à la Perrault or Decq. There was something different to be seen in the US with total deconstructivism such as feeded at Cooper Union, or with Liebeskind or Eisenmann's late 80's style. Then came the first CAD projects, and the dictatorship of computer made architecture which is today producing the best images or perspectives, and the most sexy shapes that each major town across the planet is dreaming to have ( thnx to the Bilbao syndrom).
The fascinating work of Zaha Hadid fits in this genre, very smart, very smooth, but too much flow and form oriented to my tastes ( any project that could have been dropped on the moon as is, or fitted in town A or B or C without raising any question is suspicious in my contextualist architect's mind, despite the fact that for once this projects connects somehow to its surroundings).
Finally, I am there, entering that building of hers, which is going to be dedicated to XXI's century art, in the northern part of Rome, a stone throw away from Piano's Auditorium, or Nervi's sport hall. The project is glued to an existing rectangular building, on a wide L shape plot. Zaha's design symbolises the flows going back and forth from the street to the end of the L, and is quite efficient in providing dialog with the surrounding buildings and streets. It offers delicate pathways with cinemascope openings ( too rare) on the mineral garden created ( building is less invading on the terrain than the winning project).
Strangely enough it is a project that I found too self oriented, meaning there is not so often ways of perceiving the outside, when this happens its between layers of thick green tinted glass between other layers of concrete stripes and pathways: the architecture offers itself for its own users: it offers zillions of perspectives due to the curvy shapes, but not so many dialogs with the outside world ( reeinforcing my idea toward spaceship / selfish architecture). Inside spaces between the main galleries are simply fantastic spacewise: the main hall with the suspended stairs and snake like shape gateways, the ever changing views, the smartness of simplicity in the design of those spaces is a spatial experiment that I rarely had…( it reminded me on one of the first shock I had in Berlin, not in Mie's gallery but in Sharoun's City Library).. there is magic in projects that can provide physical feelings of that sort ( it will surely become a must have for SF movies Director of photography).
Flows: Fluidity of movement is something that is also totally fascinating in this building: you climb wide stairs, get into narrower paths, then space spreads horizontally then narrows into that small tunnel back onto a ramp that conducts to one of the galleries…curved walls guide me to the next step or spatial experience. Every curve is made to be seen with the ceiling, lighting, and even wall/ground connection with a 10cm high gap adding to the feeling.
On the less convincing sides is natural light: the whole project is drawn in curves: the main roof beams adding to the fluidity: made in highly performant fiber reinforced concrete, they are thin ( lines), but they are high, they are close together ( think spatial combs) and combined with their 50% warmgrey color and the fixed solar control shades on the roof: they eat way too much light, which, for a museum or a gallery is something I find strange. In the main gallery halls, there is even light diffusors/ blades that seem also to have an acoustic control role, that add another layer of light eater.
I wonder why everything has to be artifically lit in a museum, when there is so many interesting ways of controling natural light from the ceiling ( think Kahn, Piano, Scarpa..): conclusion: its a bit dark in there, especially for a sunny day! Some details will also in the life of the building pose maintenance problems for sure: the translucent plexiglas ceilings that are a trademark of all pathways and staircases: there is construction issues i am sure with how you can maintain rigidity in those boxes, and i am sure this is well thought: but my experience is that it collects dusts and other particles that tend to make it look dirty: in the main hall pictures you can see there will be a big surface of them, and I wonder how this will be kept clean!! ( they seem all CNC cut to the right curve of course, in case you wonder)..
There is also a few wonderings I have toward the central hall in the café area: the glass roof is a junior structural engineer wetdream, but it does not provide more than that: there is so much thickness in all the beams that the light ( as in heavy opposition) effect is anhilated..The Café is not very  » dolce vita »/ friendly like and all that thick greenish glass is getting on my nerves when i'm exiting the building ( i feel a mix of airport / office / high tech look sensation that lack poetry and user empathy..like i'm beeing forced into the architecture, not guided ). I'll return there when the building is at full rig with collections etc to see how they manage to use the provided space: Rome has a nice contemporary building finally ( forget about Richard's Meier's wrecked attemps on the Tiber that must have been designed using a RM gimmicks plug in in a software) that is worth really the experience: Future will tell if this works as a museum, or if users will be able to fit in there: but it surely gives energy and credit to Zaha's team talent!
C&C welcome